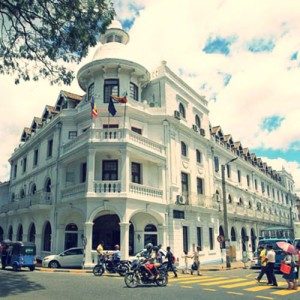 Day 1
Arrival / Kandy
Transfer via: Flight, arranged on your own
Accommodation:
Meals: Lunch (on the way at local restaurant), Dinner
Travel time: Approximately 3.5 hrs
Welcome to Sri Lanka! Upon arrival at Bandaranaike International Airport (Morning flight), you will be greeted by your chauffeur guide and then be headed to Ceylon's old capital of Kandy. Stop for a visit to learn a wide range of spices at the Spice Garden en route of which the15-minute complimentary Ayurveda Massage is also highly recommended. Upon arrival in Kandy check in (on time) to your lovely hotel & relax
Later visit Sacred Temple of the Tooth Relic – Sri Lanka's most sacred Buddhist shrine, the Pooja Ritual held in the temple with all the fanfare, drums, trumpets and brightly coloured Monks definitely show you how special and spiritually important the temple means to Sri Lanka.
Note: Driving Note: Buddhism is extremely respected in Sri Lanka, any disrespectful words or acts may cause deportation or denial of entry, e.g. Buddha tattoos, kissing/climbing/riding Buddha statue, drinking inside a temple, etc.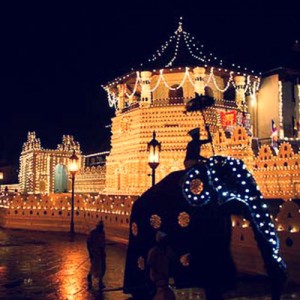 Day 2
Kandy
Meals: Breakfast, Lunch (on the way at local restaurant), Dinner
In the morning, take a visit to Royal Botanical Garden of Peradeniya which boasts 300+ varieties of orchids, spices, medicinal plants and palm trees at.  the afternoon is free at leisure or walking around the upper lake. Next visit Gem museum & lapidary close by.
Later you will visit a batik factory. Batik has been an ancient procedure of painting cloth and today Sri Lanka is among the world leaders in the design of batik. You see the various phases of batik manufacture truly quality design, artistry and workmanship. Also you may try with Block printing under supervision of staff of batik factory
If you have spare time you will have a leisure walk around beautiful Kandy Lake. The lake was created in 1807 by King Sri Wickrama Rajasinha, the last ruler of the kingdom of Kandy. Several minor local chiefs protested because their people were objected to labour on the project. In order to stop the protests they were put to death on stakes in the lake bed. The central island was used as Sri Wickrama Rajasinha's personal harem. Later the British used it as an ammunition store and added the fortress-style parapet around the perimeter. On the South shore, in front of the Malwatte Maha Vihara, the circular enclosure is the monks' bathhouse.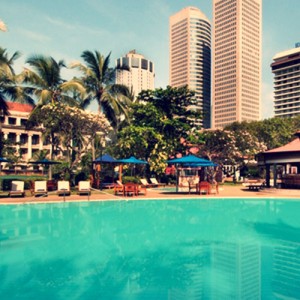 Day 3
Kandy/ Colombo
Transfer via: Private vehicle
Meals: Breakfast, Lunch (on the way at local restaurant), Dinner at nice restaurant
Travel time: Approximately 3.5 hrs
After breakfast, set off for Colombo- Enjoy a relish & scenic journey into  the commercial capital of Sri Lanka.
At the beginning get escorted to Giragama tea plantation and a tea factory, where the world's best Ceylon Tea is produced. After learning about the process of manufacturing tea, get hands-on experience of tea picking and don't forget to sip a cup of pure Ceylon tea in the factory
Upon arrival in Colombo, take a guided city tour to explore Colombo's colonial legacies including the Independence Square, Gangarama Temple of Colombo, mile-long promenade of Galle Face Green etc. Stop for taking pictures   by the former British Administrative Center
Day 4
Colombo/Exit
Transfer via: Private vehicle
Meals: Breakfast
Travel time: approximately 1hr
Today you will be picked up from the hotel and transferred to the airport for your departure flight.
Note: Driving time in the program is approximate, subject to the traffic, weather and road conditions